Jack Dorsey, who came up with the idea for Twitter and is now its chairman, has unveiled Square, his new start-up. Tuesday (December 1, 2009 ) the company's Web site went live. Square makes a small square device that plugs into any gadget with an audio input jack, including an iPhone or iPod Touch, and turns the device into a credit card machine.
The idea: anyone with a mobile phone can accept credit card payments.
Little background: In February 2009, Jim McKelvey wasn't able to sell a piece of his glass art because he couldn't accept a credit card as payment. Even though a majority of payments has moved to plastic cards, accepting payments from cards is still difficult, requiring long applications, expensive hardware, and an overly complex experience. Square was born a few days later right next to the old San Francisco US Mint.
Useful For: Square could be useful for people who run small businesses, like food carts or booths at art festivals and farmers' markets, who would not otherwise be able to accept credit cards. Theoretically, it could even be a way for individuals to pay one another without exchanging cash or checks.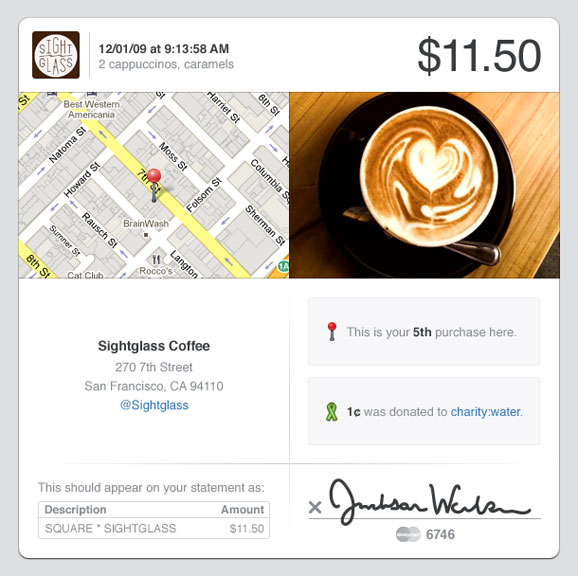 Availability: Square is starting with a limited roll-out and will be available to everyone next year. The company, which attracted a lot of interest from several venture capital firms, is backed by Khosla Ventures, which recently raised $1.1 billion to invest in start-ups.
Test User Cheri Mims is the owner of Lilybelle, a flower cart near Square's office in downtown San Francisco. She, along with just a few other merchants, has been using Square for several months during a test period. Ms. Mims plugs the device into her iPod Touch and connects to the Internet using the Wi-Fi connection in the plaza where she operates her flower cart.
Cheri Mims share her experience and view about the Square. It makes it so much easier to sell your product. Customers don't carry lots of checks or cash. The fact that you can go anywhere and run a business is amazing. It was surprised that customers were not nervous about swiping their credit cards using a device they had never seen. Fraud prevention will be a big challenge for Square. People who want to pay with Square can create accounts with photos so sellers can verify that the person using the credit card is its owner.
Alternative forms of payment are an exciting area for entrepreneurs and investors. Many companies, including eBay's PayPal unit, are focusing on making it easier to pay for things online. Others, like Obopay, let people text message money to one another.
References: