KATHMANDU, November 23: Devyani International, under the umbrella of Ravi Kant Jaipuria's RJ Corp, here today announced the arrival of Pizza Hut & KFC restaurants here, marking the first multinational chain of restaurants coming to Nepal.
RJ Corp is the biggest bottler of Pepsi brands in India and Nepal and also largest franchisee for YUM brands in India namely, Pizza Hut and KFC. Devyani International along with YUM Brands, the world's largest restaurant company with five dynamic global brands and 35,000 outlets across 105 countries, is excited to make their entry in the Nepalese restaurant circle and has extensive plans for growth and expansion in this market.
With the belief that consumers in Nepal are ready for international eating-out experience they have launched their first two outlets at Durbar Marg. As stated by the officials of R J Corp, Nepal is a promising market for these brands and their entry will give the Nepali economy a boost by creating job opportunities for locals. The opening of these two outlets would give Nepali consumers the first local experience of an international food chain. They have promised an upcoming rush of announcements and product launches that will make this an exciting time for consumers.
NMB Bank Limited is the financial partner of Devyani International for bringing Pizza Hut and KFC to Nepal.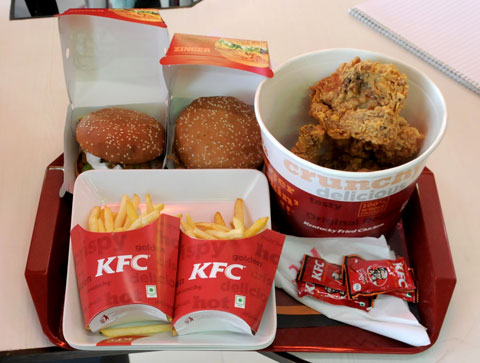 KFC
Veggie Snacker (Burger) – Rs 69
Chicken Snacker(Burger) – Rs 79
Hot wings (3 pc) – Rs 119
Boneless chicken strips with Salsa – Rs 149
Zinger Burger – Rs 149
Veggie Feast Meal (Burger) – Rs 209
Zinger Meal (Burger) – Rs 259
Chicken Meal (3 pc) – Rs 339
Chicken Large Bucket (12 pc) – Rs 899
Hot Wings Large Bucket (40 pc) – Rs 899

Pizzas @ Pizza Hut
| | | | |
| --- | --- | --- | --- |
| | Premium | Medium | Family |
| Simply Veg | Rs 119 | Rs 229 | Rs 369 |
| Spicy Veggie | Rs 139 | Rs 259 | Rs 409 |
| Paneer El Rancho | Rs 179 | Rs 319 | Rs 499 |
| Veggie Lovers | Rs 179 | Rs 319 | Rs 499 |
| Veggie Supreme | Rs 249 | Rs 379 | Rs 579 |
| Teeka Paneer Makhani | Rs 219 | Rs 379 | Rs 579 |
| Chicken Supreme | Rs 299 | Rs 429 | Rs 659 |
| Chicken Hawaiian | Rs 219 | Rs 379 | Rs 579 |
| Chicken Tandoori | Rs 249 | Rs 379 | Rs 659 |