This past weekend, I spent my morning cycling for a good cause. I happened to learn that on the occasion of World Cancer Day, 4th February, Annapurna Post was organizing Ride for Life 2017 – Cycle Ride for Cancer Awareness on Friday and decided to join in.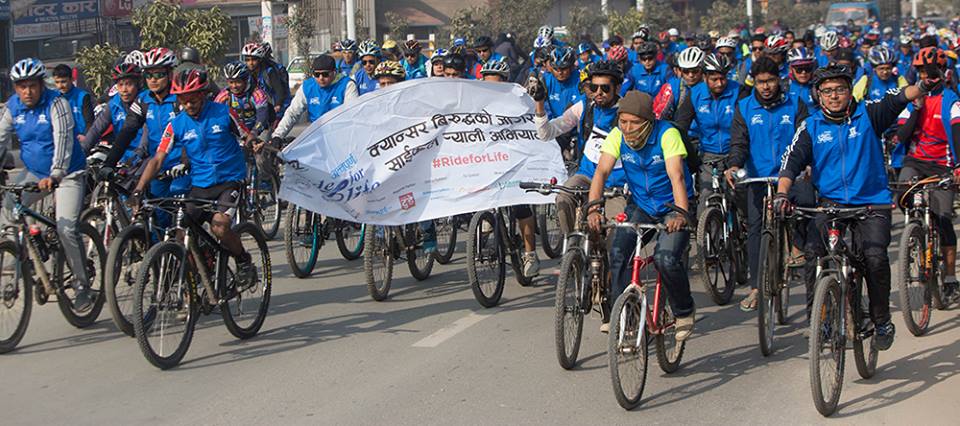 I am a cycling fanatic by nature and love to go out on rides to different places every chance I get. Given that the Ride for Life rally had a good cause to support, there was no doubt that I'd join in. The Ride for Life 2017 was targeted towards creating an awareness of cancer and supporting the free examination for Cervical Cancer.
The total distance of the cycle rally was 18.50 kilometers. The distance wasn't too much and therefore, we had a fun ride without much exhaustion. Although the actual distance I covered was a little over 30 kilometers, as I rode from my home in Bhaisepati to the venue.
I reached Annapurna Corporate Tower in Tinkune a few minutes before the program time. The program was jointly inaugurated by the Chairman of Annapurna Media Network – Rameshwar Thapa and Minister of Health – Gagan Kumar Thapa.
Hundreds of cyclists were present as participants, although I do not know the exact count. But judging from the fact that almost everyone was wearing the free windcheaters that we were gifted by Annapurna Post, we probably didn't cross the 1000 participants mark. They also had exciting gifts for a lucky draw.
We left the Corporate Tower and went on to cycle the designated route that was starting Tinkune – New Baneshwor – Maitighar – Thapathali – Kupondol – Pulchowk – Jawalakhel – Kupondol – Tripureshwor – Shahid Gate – Kantipath – Hattisar – Bhadrakali – Singha Durbar – Maitighar and ending at the Annapurna Corporate Tower in Tinkune.
I feel happy to have been a part of a noble cause. In my opinion, making people aware of what cancer is and that we can conquer cancer is very important.
I will be more than happy to join in should a program as such take place in the near future. You can find the photographs I took during the event in the gallery below. Annapurna Post even has a photo feature so you can look at the event in pictures. You can also check out their event page on Facebook. There are a few interesting articles on cancer awareness if you'd like to go through.