WordCamp Pokhara 2018 took place on 24th November 2018. All of our team members from Catch Themes were excited about the event. As usual, I was a part of WCPKR2018 and had an amazing time. Through this post, I will give you all an overview of my experience at WordCamp Pokhara 2018.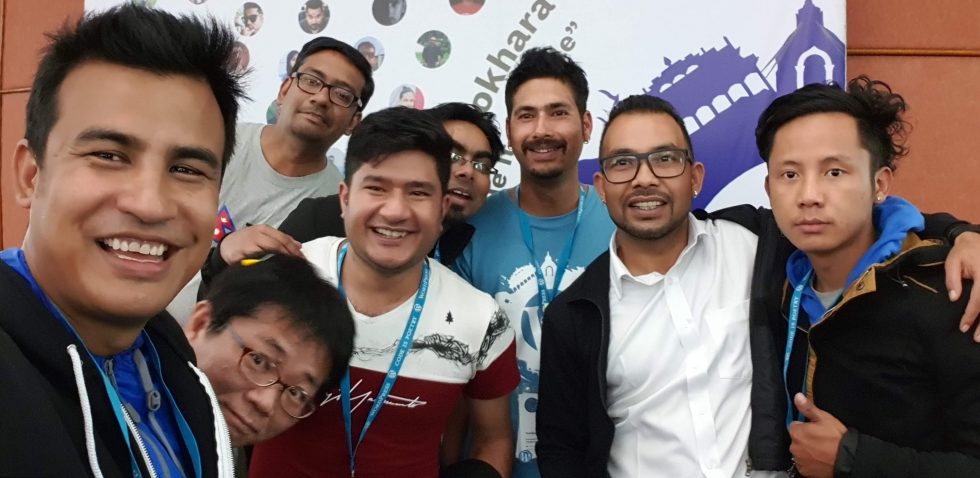 Prior to WordCamp Pokhara, members of Catch Themes—Pratik Shrestha, Ashish Rai, Tikaram Bhandari, and I decided to visit the beautiful Mustang and later attend the WCPKR2018. Therefore, we left five days before the WordCamp event.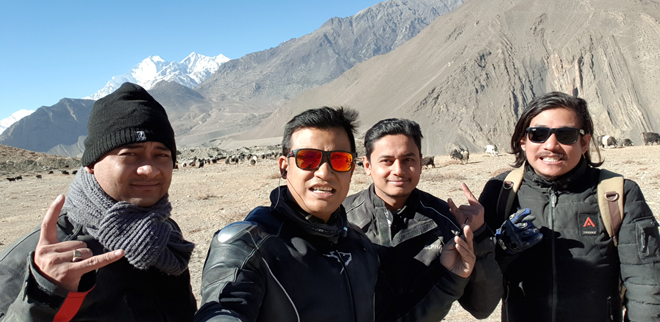 On Friday, 23rd November 2018, all four of us were back from Mustang and joined the rest of our team in Pokhara at around 3 P.M. Since we had just come back from a long tour on bike, we were very tired and exhausted. So, we straight up went to our hotel, Hotel Annapurna Plaza at Lakeside, Pokhara and got freshened up.
The WCPKR2018 members had organized a small gathering that evening, so, I went with some of the team members from WCPKR. The gathering was held at Duna Tapari, one of the restaurants in Pame. Pame is along the lakeside too but it's a little further away from the main Pokhara tourist hub. It took around twenty minutes to reach there from the main hub. Upon reaching there, I met a few of my colleagues including Yam Bahadur Chhetri (Uttam), Koshish Bhandari, Manish Pyatha, and more.
After having a small get-together in Duno Tapari restaurant, we headed towards Gusto The Restaurant for the Speakers dinner party. There were WCPKR2018 organizers, volunteers, and some team members from the event. We chit-chatted about the event happening the next day. I really liked the restaurant they chose for the dinner party as it had an excellent view with serene environment. After finishing our snacks, I, along with Yam Bahadur and two other colleagues headed for our dinner. As I mentioned earlier, the venue was great, however, I was not happy with the lights inside the restaurant. The lights were very dim and we could barely see each other's faces in that dim light. So, this was a little disappointing for me. But apart from this, I think the before-party venue was a nice pick. I also got an opportunity to meet all the speakers including my friend Takayuki Miyauchi, and network with many new faces as well.

After wrapping up from the speakers' dinner party, I left the venue with Suddhama Thapa and Biplab Subedi. We went for a walk at lakeside along with a few other colleagues from Theme Palace and Fun Photo Stations. We, then, went back to our respective hotels after spending around an hour or two at the lakeside.
WordCamp Pokhara 2018 Day
24th November 2018 – the official WordCamp Pokhara 2018 day. According to the schedule on the official WCPKR2018 website, the registration time was at 8 A.M. Since Pokhara has always been a holiday destination for me, and I had just come from a long motorbike tour, I was in a relaxed mood and didn't want to rush things up. So, we reached the WordCamp Venue at around 9 A.M.
This was the very first time that a WordCamp was happening in the beautiful city of lakes, Pokhara, and that too in a five-star hotel—Pokhara Grande. So, the first impression of WordCamp Pokhara 2018 was very exclusive for me. While entering the event, the first thing I saw was the photo booth of Fun Photo Stations. People were really enjoying clicking the photographs with the props available. I think it was a very nice thing that they put out the photo booth on the entrance of WCPKR2018. This helped a lot of new people to network with one another in the first phase. After the Fun Photo Booth, there were sponsor desks with many interesting swags. Next up was the Registration desk followed by the two halls: Hall Manaslu and Hall Annapurna. So, the overall layout of the event was very nice; it was managed very accurately. Kudos to the WCPKR2018 team for that!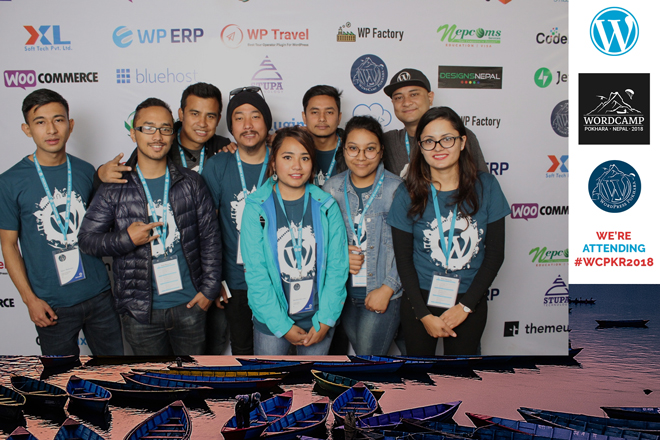 Talking about the speakers' sessions, I think WordCamp Pokhara covered various topics and sectors of WordPress—from basics to Gutenberg, and from designs, SEO to CLI. Being the first of its kind in Pokhara, I was very happy to see new faces talking on so many interesting topics. In my opinion, I believe every session was informative—for professionals as well as beginners. So, I would like to thank all the speakers for providing such powerful and interesting presentations.
One little thing that saddened me was the breakfast. The breakfast time was not mentioned anywhere on the schedule, so we had no idea about its timing. We would not have missed it if the breakfast time was mentioned in the schedule. Not only our team, but there were a few other attendees as well who missed their breakfast. Yes, I do realize that we were a little late at the event, but I think even if the breakfast time was over, they should've facilitated us with some tea or coffee. So, from my personal standpoint, they can take it as a suggestion and improvise next year.
Another thing they could improvise on, I think, is the photography session. The resort itself was on a very nice location to get a perfect aerial shot. However, the organizers were having a little difficult time, managing all the crowd and deciding the photo session location. Finally, after a chaotic few minutes, the photo session took place at the back of the hotel.
Prior to attending WordCamp Pokhara 2018, we went on a trip to Mustang. And because of that, I was very tired and worn-out, so I went to the sauna and spa to refresh myself. Coming back from there, it was time for the After-Party.
As for the after-party, we headed towards Bajeko Sekuwa at Naagdhunga, Pokhara. While at the after-party; it provided everyone a chance to network with fellow attendees, explore new ideas, and build camaraderie after the long day at WordCamp. It was a refreshing after-party.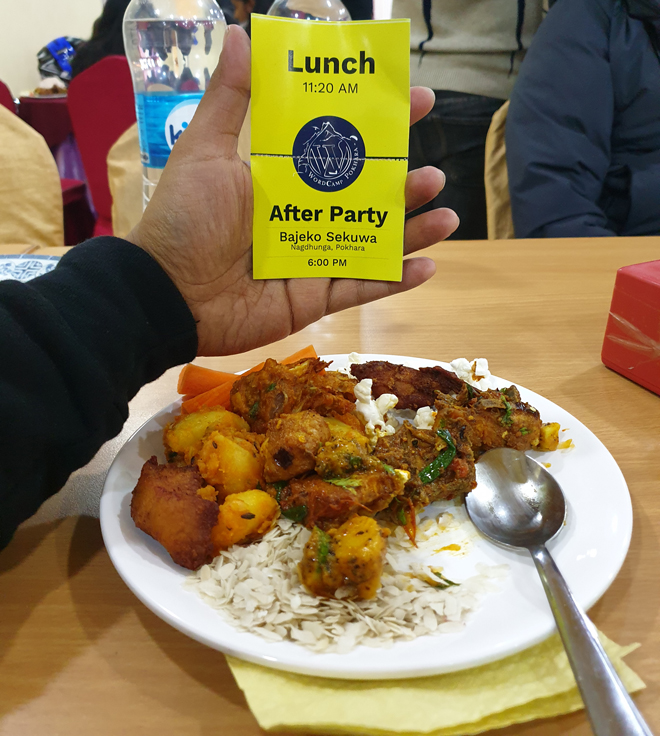 We—me and some of my colleagues— went to the lakeside again after the after-party. Then, we spent some awesome time at the Rolling Stones, one of the popular rock bars in Pokhara. I also went to buy some books for my son at Mandala Book Store and again had some coffee with my friends. Upon reaching hotel that night, I came to know that the members from WordPress Biratnagar and Pokhara were discussing on the upcoming WordCamp Biratnagar 2018. So, I joined them in the conversation and we chatted about the event.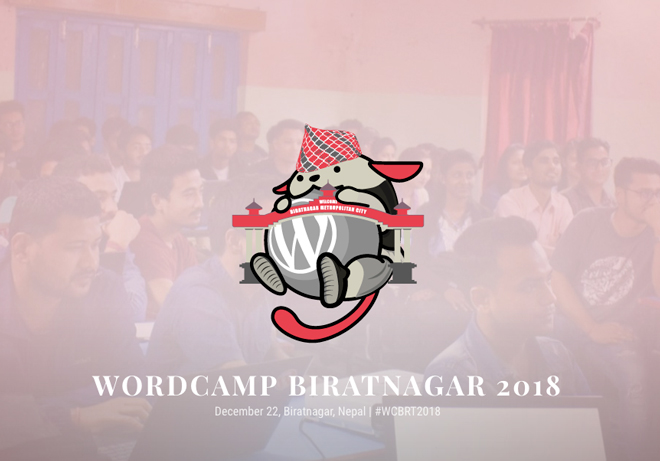 Guys! WordCamp Biratnagar 2018 is happening on 22nd December this year. This is also the first WordCamp happening in Biratnagar city and the organizers are gearing up to bring so many new concepts at WCBRT2018—like WordPress Museum, website giveaway, play and win, and more. I think it is going to be very interesting to see what more the event has in store for us. So, make sure you book your seats right away! I will be attending WCBRT2018 too and I want to wish all the luck to the WordCamp Biratnagar team.
To sum it all, WordCamp Pokhara 2018 was a huge success and all the organizers and volunteers were actively involved to make the event grand. Being organized for the first time in the city, I personally think that WordCamp Pokhara 2018 was one of the finest WordCamps in the world.
Lastly, I must say that I am very happy with everyone who made this WordCamp a success.
Cheers!
P.S. Here are a few snaps from WordCamp Pokhara 2018.