Visit  The Great Himalaya Trail. Here goes brief introduction to the site taken from http://www.thegreathimalayatrail.org/about/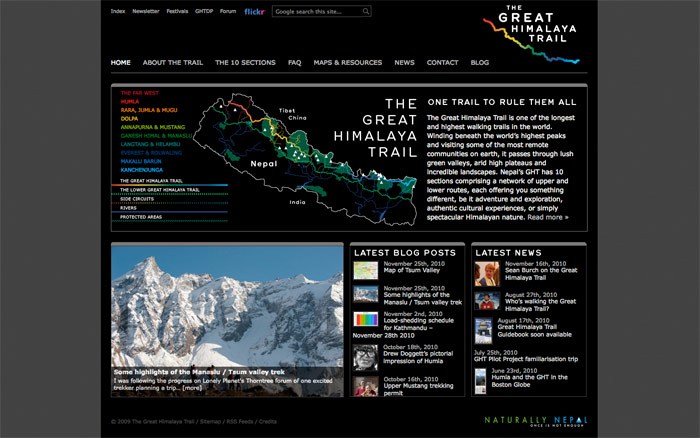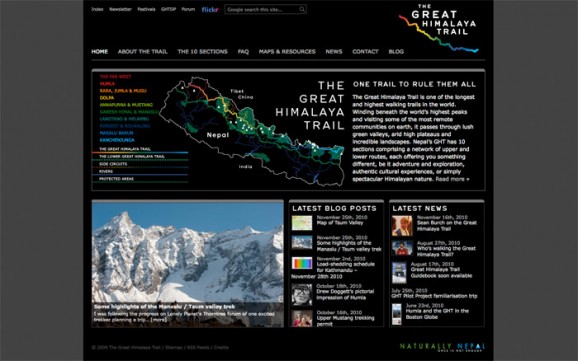 Great Himalaya Trail is a network of existing trails which together form one of the longest and highest walking trails in the world.
Winding beneath the world's highest peaks and visiting some of the most remote communities on earth, it passes through lush green valleys, arid high plateaus and incredible landscapes. Nepal's GHT has 10 sections comprising a network of upper and lower routes, each offering you something different, be it adventure and exploration, authentic cultural experiences, or simply spectacular Himalayan nature.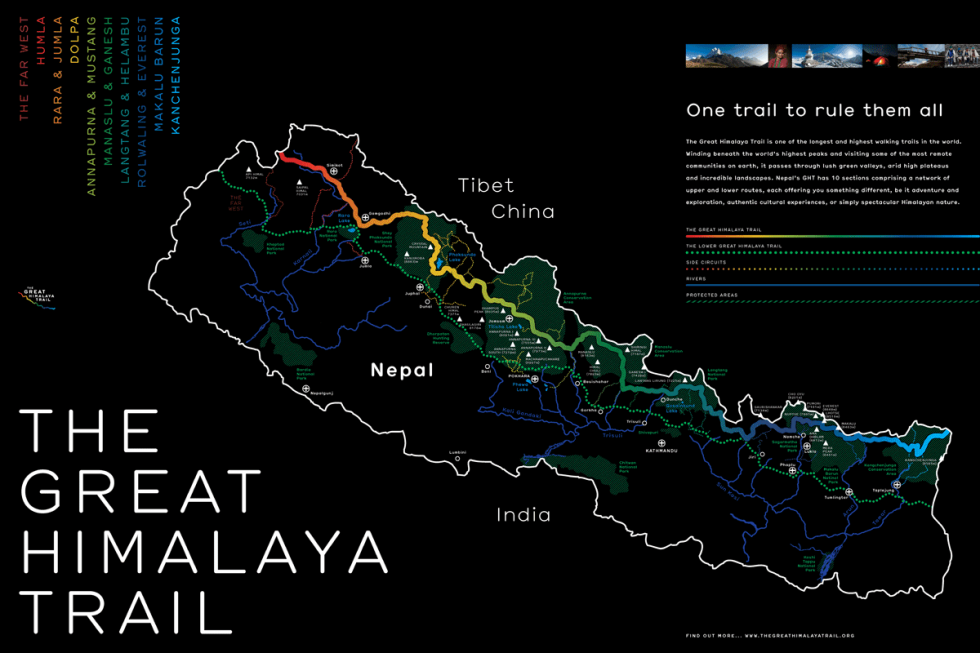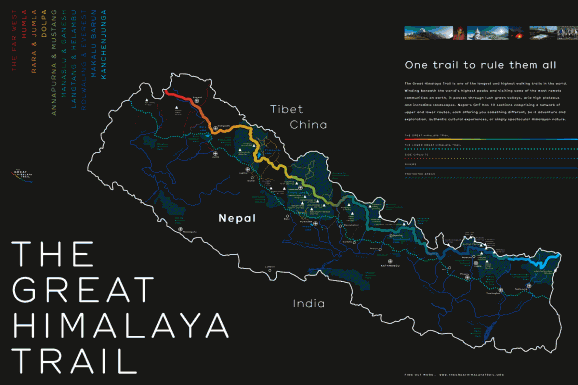 Download fullscreen PDF of this map poster (1.1MB)
The 1700km Nepal section of the trail begins near Kanchenjunga on the eastern border and heads west navigating the domains of eight of the world's 8000m peaks, from the beautiful but lesser-known Makalu to the famous Everest. It is not the easiest nor most direct route across Nepal, rather a route through the Greater Himalaya. The Nepal section ends either in Humla on the Tibetan border.
The route offers an incredible diversity in terms of landscapes, flora & fauna, people and culture: from snow leopards to red pandas; from sub-tropical jungle to fragile high-altitude eco-systems; from the famous Sherpas, to Shamanism, to the ancient Bön Buddhist culture of Humla.
National Geographic Adventure Magazine's Jame's Vlahos observes, "Nepal's mountains are minimally developed, but they offer a wealth of trade and pilgrimage routes. The GHT elegantly connects these existing paths without blazing a single new trail."
The Nepal section is part of a longer alpine adventure traversing the spine of the Himalaya from Bhutan to Pakistan. These sections are currently being researched, trekked and documented. There still is a a lot of Great Himalaya Trail exploring yet to be done!
Nepal is a poor country and tourism contributes an important 4% of GDP. However this is concentrated, as far as trekking is concerned, in the 3 most popular areas of Solo Khumbu (Everest) region, Annapurna region and Langtang.
By trekking away from the beaten trail, you will making a direct difference to communities in these areas by spending money on food, accommodation or services such as guides, porters and cooks.
Many people come to Nepal to get away from the crowds and to seek adventure. That is more than possible in Nepal.
While not everybody will have the time or resources to attempt the whole route, it is possible to walk sections or do short treks in the areas the GHT passes. There are many more places to visit in Nepal that just Annapurna, Everest or Langtang, beautiful as they are and we hope to bring further information about these possibilities.