At Catch Themes, we work hard, and play harder. Now with Acclaim Social Club, our playtime just got a whole lot more organized. The club is fast making our workplace a cohesive, tight-knit community by organizing regular events where the whole family of companies comes together, and engages in activities.
This weekend, the event on the agenda was the Acclaim Social Club picnic at Godawari, in Lalitpur. The picnic was organized by leaders of the social club. As soon as the event was finalized, I planned to bike there and back, making use of the opportunity to get on again on this amazing cycling route.
As you may know, I have quickly become a cycling enthusiast. Nowadays, I take my bike out every weekend, and am pushing myself to go farther and faster every week. On some of these biking trips, I am joined by some colleagues, many of whom are also interested in biking and are eager to get started.
When I started talking about my plan to cycle to the picnic spot, most of my team at Catch Themes decided to join. What started as a casual idea in the Catch Themes office quickly became a sensation, with more than 8 people ready to pedal it out to the botanical gardens in Godawari.
All four guys from Catch Themes going to the picnic spot chose to bike up there. The four of us from Catch Themes were joined by four other colleagues from the other companies that are members of Acclaim Technology. Since it was the first time on such a strenuous route for most of them, we started with warmup exercises at the office early in the morning. A little after 8 am, we were on our way!
Godawari is 19 kms south of the Kathmandu valley, at the foot of Mt. Phulchowki. It sits high above the valley, although the road there inclines gradually, with a few tough stretches here and there. For many of our team members, it was the first time they were going cycling on such a long and strenuous uphill course, and it was great weather for first-timers.
It was cloudy all day long, with a nice chilly air, which meant the cyclists could benefit from the cooler temperatures. As they slowly plodded on uphill, they were glad to be cycling without the hot sun beating down on them. I am happy to report that everyone got there successfully, with their spirits high. It seems that our workplace is quick becoming a place of cycling enthusiasts.
The picnic itself was a full day of fun and games. The leaders of our social club had thoughtfully planned activities to help us get outside of our comfort zone, and interact with members from other companies. There was a game of musical chairs, lots of singing and dancing, good food, and even a beer chugging competition.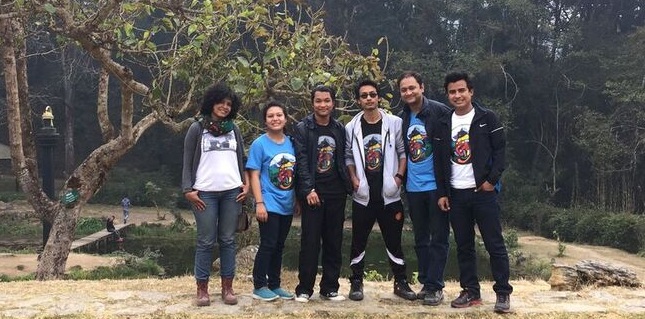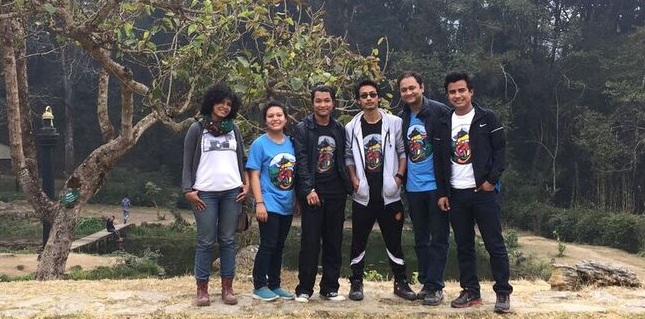 Our team took walks around the garden, enjoying the scenery, of which there was plenty. The picnic spot was close to the Godawari Botanical Gardens, which is a government-owned botanical garden, with plenty of interesting plants and great landscaping. Of course, everyone wanted to take photos of, and with the lazy cactuses, and in the rock garden, and in the greenhouses, and by the pond, and basically everywhere. The selfie sticks were definitely coming out, it must've been a great treat for all the selfie enthusiasts.
For those of you who haven't been to the botanical gardens yet, you definitely should, the variety of nature on display there will just wow you. The surroundings are enchanting. We saw a movie being made, with a shot of lovers walking hand in hand around a little pond being filmed, and we met some cool old ladies who were delightfully jumping across creeks.
All in all, this was a very successful gathering. It is always good to meet the people you see every day at work, but outside of the workplace. You get to know them in an informal way, and find out what kind of a person they are.
After the final round of delicious snacks, it was time to head home. The cyclists got back on their bike, and got ready to reap the rewards of their hard work in the morning with an amazing downhill ride back to the valley.
Here are some pictures from the day. Enjoy!